5. Background and Calculations¶
5.1. Flow diagram of the program suite¶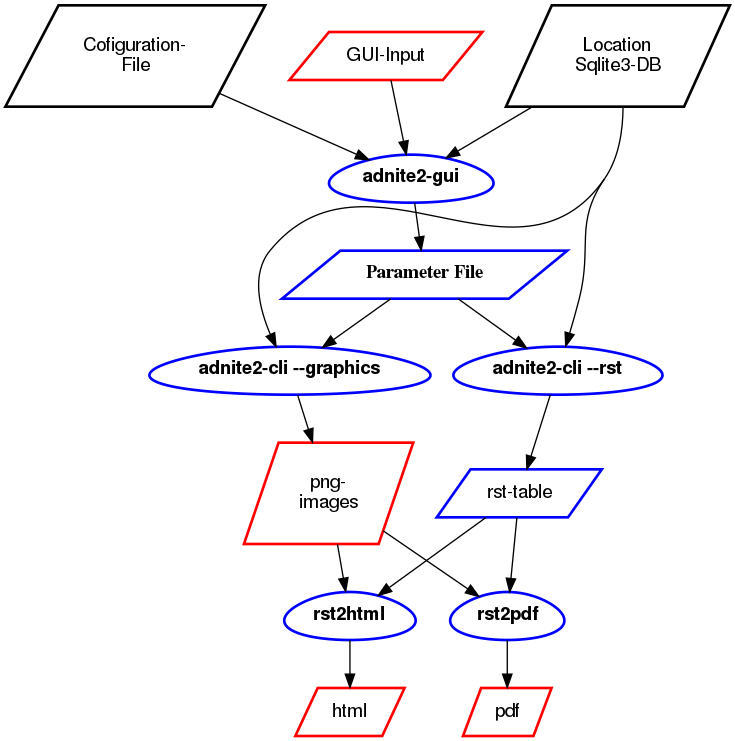 5.2. Astronomic caculations¶
Astronomic caculations were done with help of the pyephem library
To get the "right" night following the actual day all calculations are centered about mean local midnight (MLM):

(MLN .. mean local noon).
5.2.1. Sunrise, sunset, moonrise, moonset¶
To render the results of the The United States Naval Observatory (USNO) [1] following procedure was applied according to Naval Observatory Rising and Settings
Observer at the height of the horizon (e.g. sea level)
Calculation is done for the upper limb of sun and moon
No air pressure
altitude of the horizon (taking care of the mean apparent sun radius and for the average atmospheric refraction).
5.2.2. Twilight times¶
No air pressure
Calculation is done for the center of the sun.
Cicil Twilight:
Nautical Twilight:
Astronomical Twilight: (not displayed in adnite)
5.2.3. Moon positions and phases¶
No atmosphere () and no refraction
Phases are given in percent of the full moon disc
5.3. Illuminance caculation¶
The direct sun illuminance is not calculated. Only indirect sun illuminance during twilight and moon illuminance is calculated.